Two-factor authentication, also known as 2-step verification, 2FA or MFA, enhances the security of your GanttPRO account. This is one of the best precautions against cyberattacks.
Time-based One Time Password
GanttPRO Gantt scheduling software uses a Time-based One Time Password (TOTP) algorithm, an approved standard of the Internet Engineering Task Force (IETF). It requires two factors to authenticate your main password and security code (one-time password).
Why do you need 2FA?
In case your password is hacked, stolen or compromised in any other way, an attacker will still not gain access to your account without the TOTP, which expires quickly.
How to activate 2FA?
To activate 2FA in your GanttPRO account, click on the Account settings in the left bottom corner, select Security 1and click on Activate 2 for Two-factor authentication.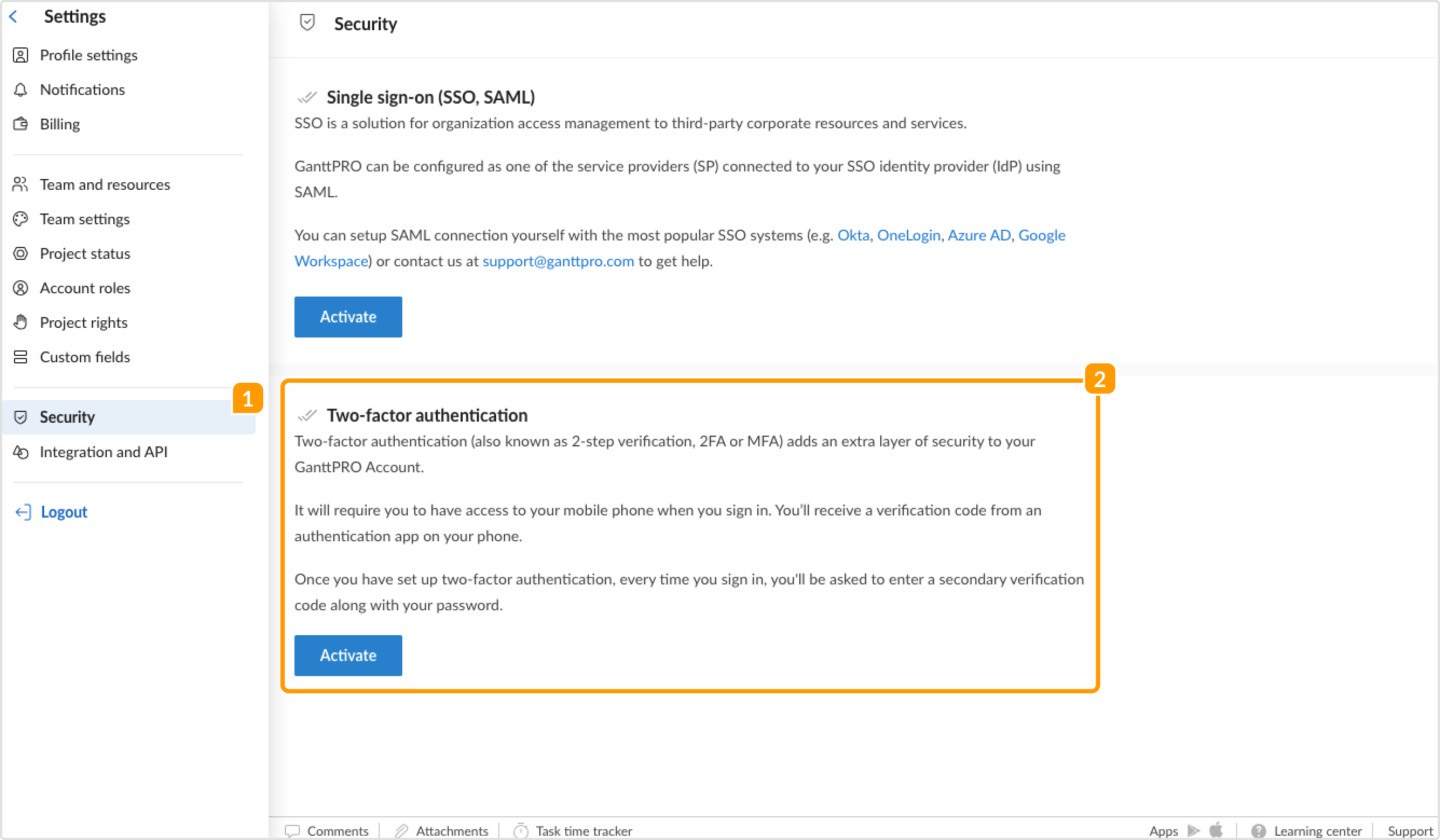 After that, you will see a window with the next steps: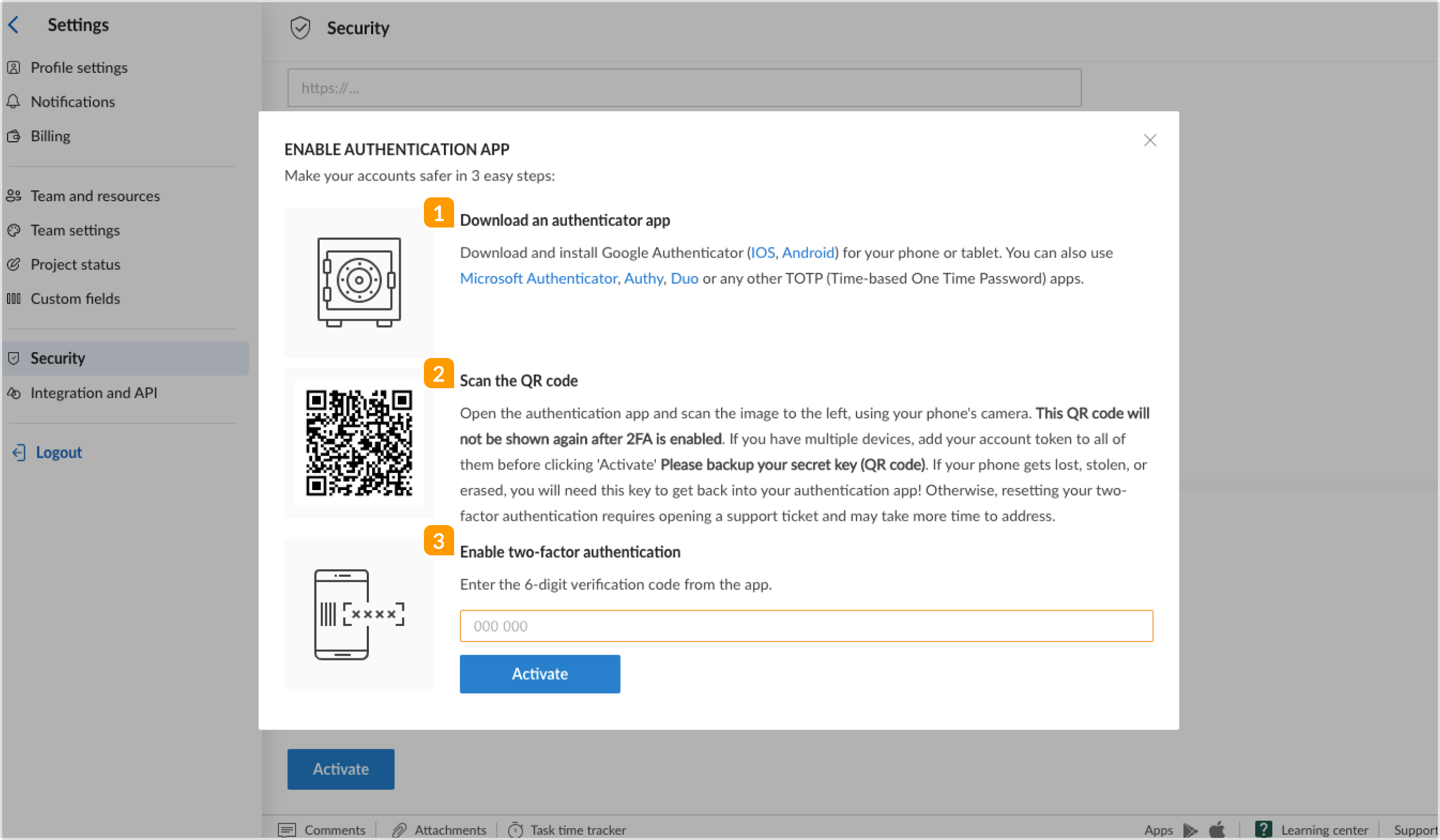 1 Download an authenticator app
To get a one-time password, you need to have a TOTP authenticator app on your phone or tablet when you sign in. The verification code will be sent there.
It can be Google authenticator (iOS, Android), Microsoft Authenticator, Authy, Duo, or any other TOTP apps of your choice.
2 Scan the QR code
Once you have downloaded the authentication app, open it. Then, follow the steps there to scan a QR code using your phone's camera.
For example, in Google authenticator, you just have to select 'Scan a QR code', scan with your phone the QR code in GanttPRO, and then see the verification code straight away.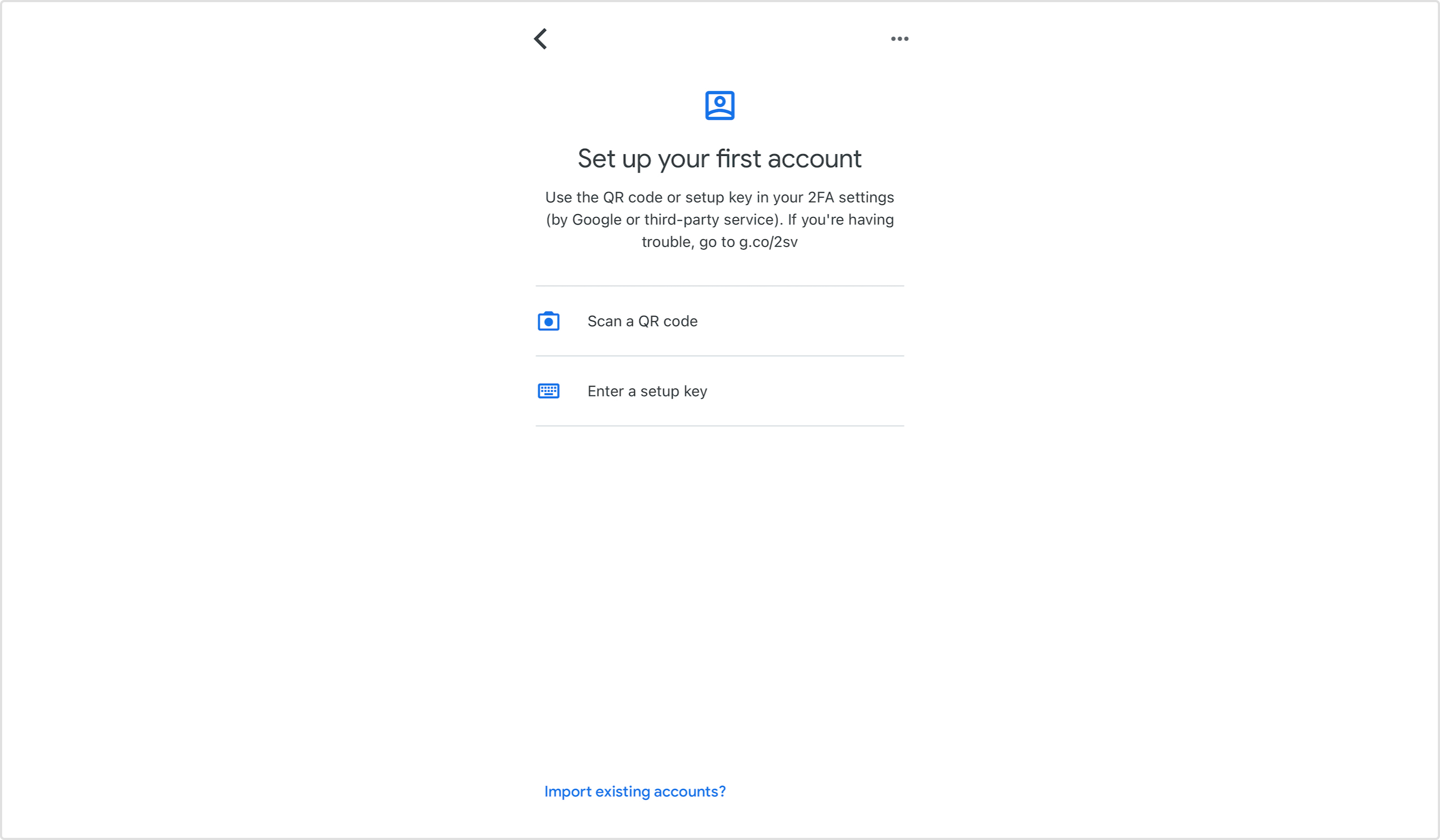 Other apps may require you to create an account and give it a name, or take other actions.
Note: your first-time code will not be shown again after 2FA is enabled. If you have multiple devices, add your account token to all of them before clicking 'Activate'. Backup your QR code.
If your phone gets lost, stolen, or erased, you will need this key to get back into your authentication app. It is possible to reset a two-factor authentication with the help of GanttPRO tech support, but it may take more time.
You will be able to scan the image in your profile settings with an authentication app and your phone's camera.
3 Enable two-factor authentication.
Lastly, enter the 6-digit verification code from the app and click on Activate.
Note that after configuring two-factor authentication, you will have to enter a secondary verification code along with your password every time you log in.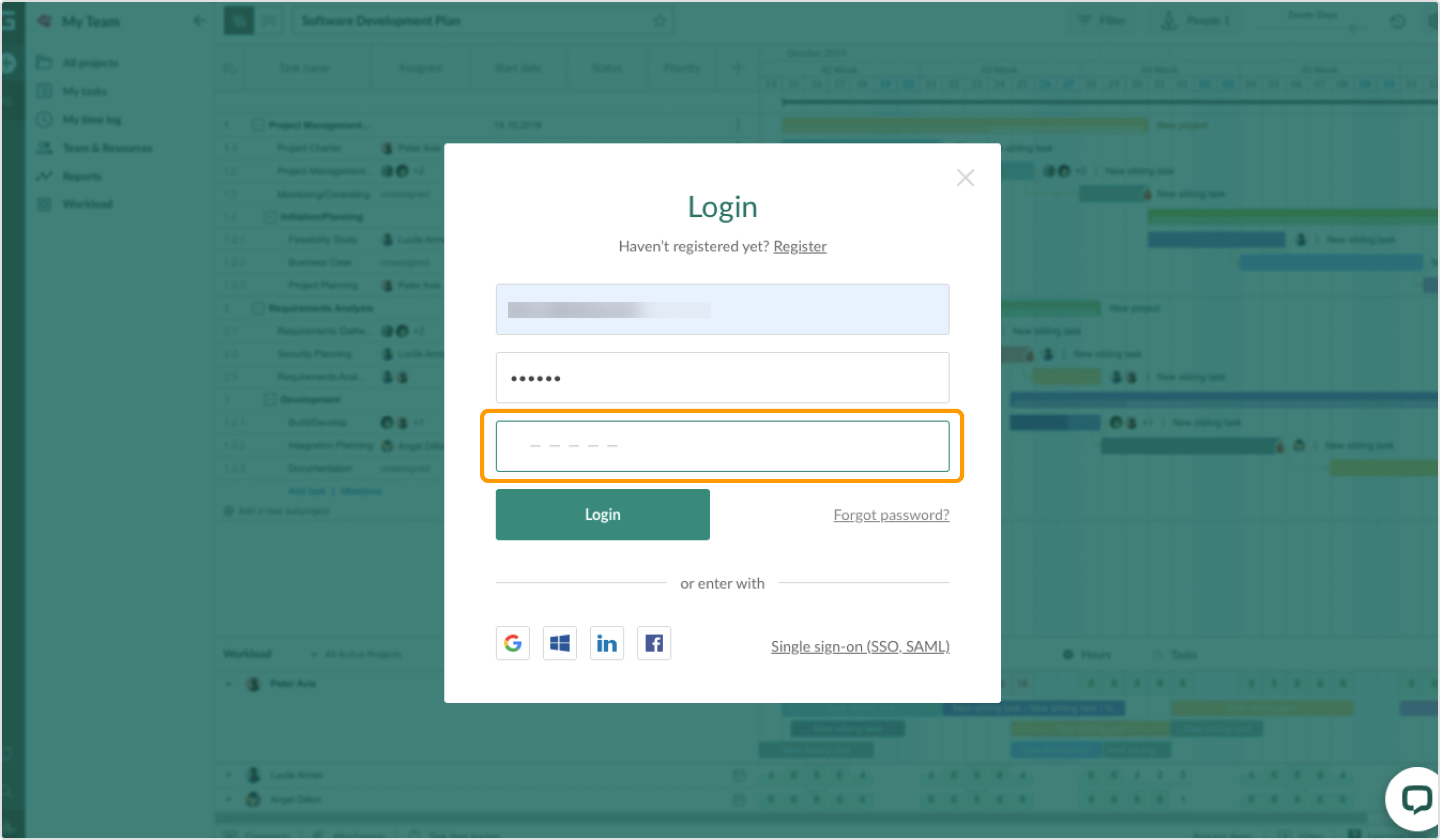 To obtain a secondary verification code, you have to open an authenticator app on your phone. There, you will see a one-time 6-digit verification code that you have to introduce while logging in.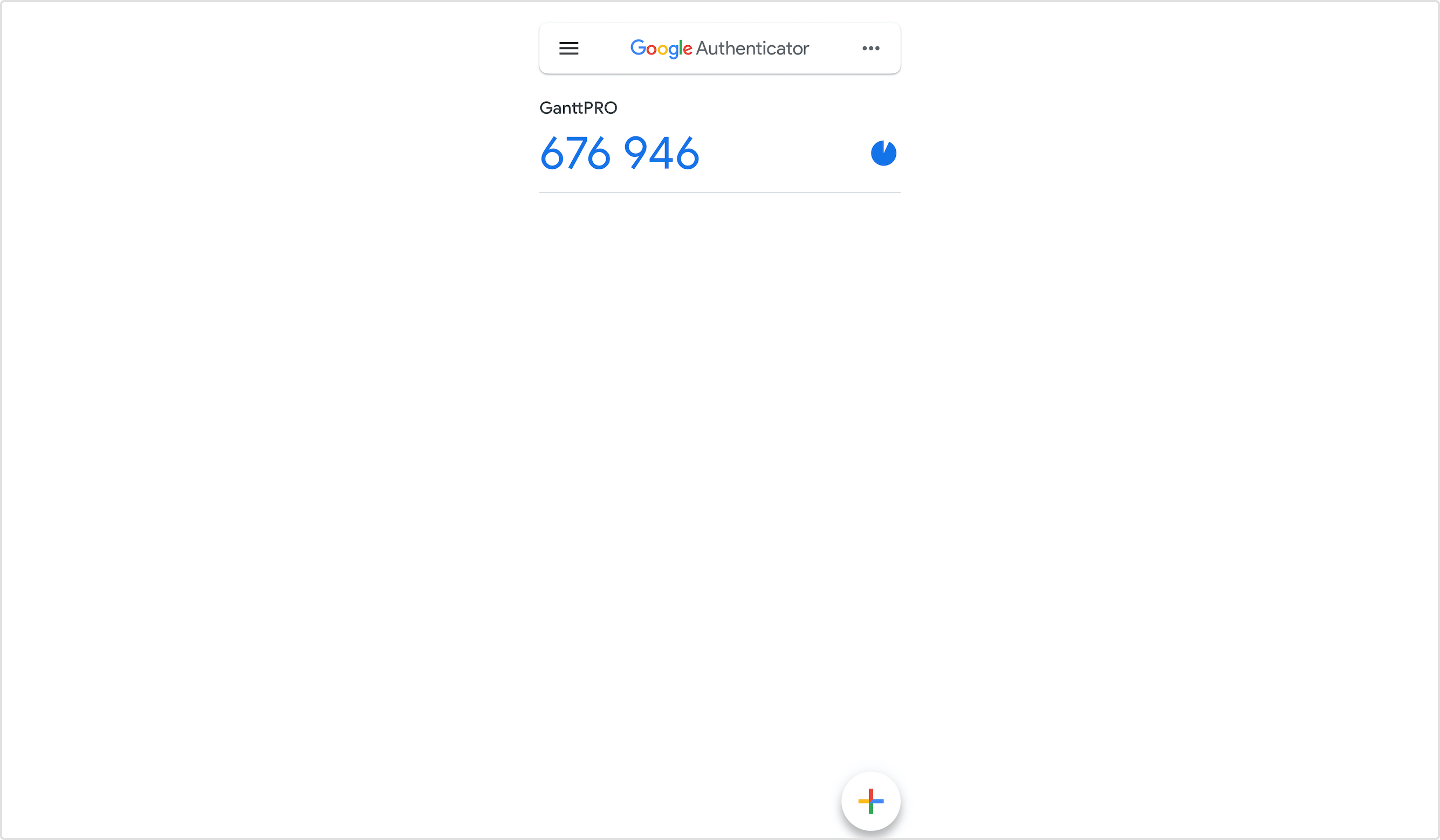 Every time you log in, you will need a different code from the app.