As an Account Owner in GanttPRO, the online project schedule maker, you can see and manage billing details in the Billing section of the Account settings. In this section, you can check:
1 Your current plan, subscription mode and the next billing date
2 The number of account users
3 Your payment method
Here, it is also possible to:
4 increase the number of account users
5 change a payment method
6 see your payment history and all the invoices.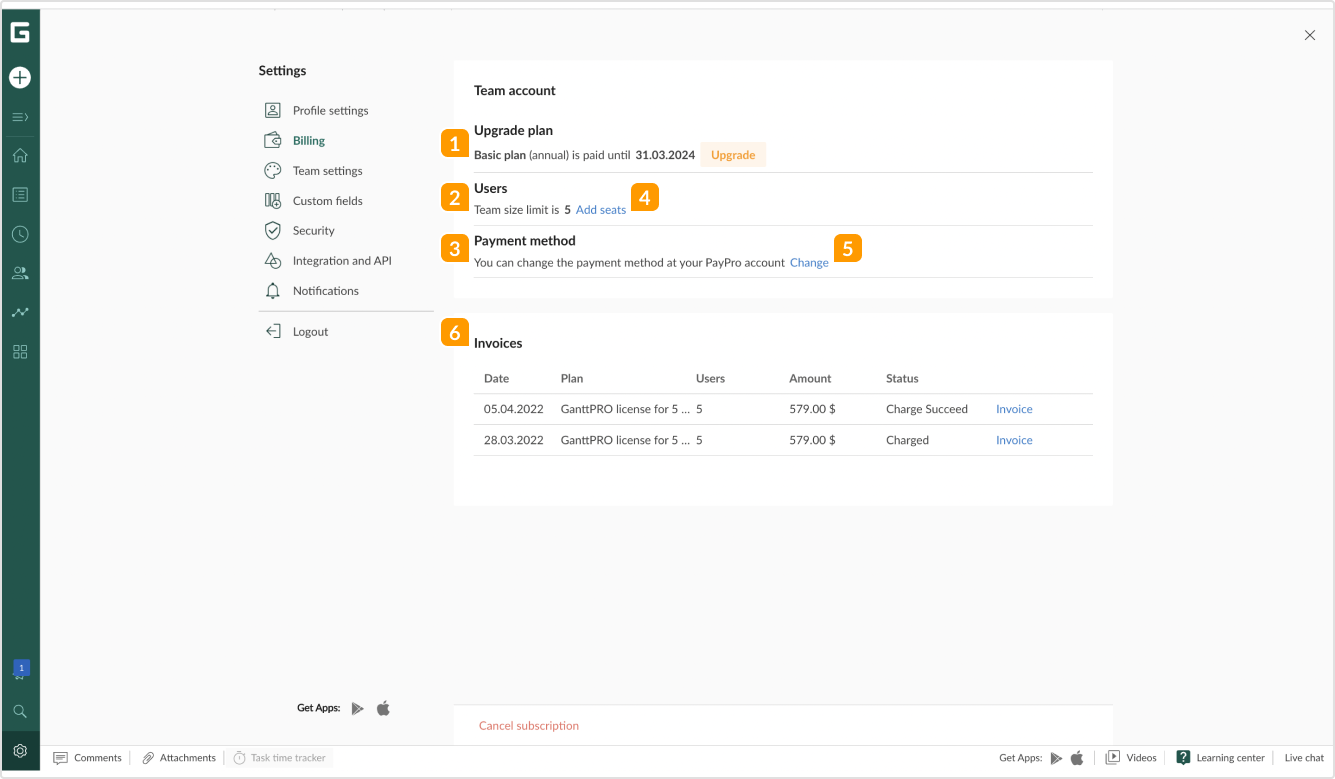 FAQ
How can I change my billing details?
You can change your billing details in your PayPro Global account. To log in to PayPRO Global, click on Change in the Billing settings section of your GanttPRO account. A direct entry link will be sent to your email. Alternatively, sign in following this link: https://cc.payproglobal.com/Customer.
To update your credit card information in a PayPro Global account:
1. Enter login that is your billing email and password. The latter should have been sent before to the email indicated while purchasing a subscription (billing email).
If you have difficulties finding your password, use the Forgot Password option (follow this link https://cc.payproglobal.com/Customer, enter your email, and click on the Forgot Password button). A new password will be sent to your email.
2. After you have entered your account, use the Add New Card option in the MY CREDIT CARDS section on the left side of the screen. If you have several credit cards in your account, select Make primary in the Actions box next to the credit card that should be used for the payment.
3. Go to the SUBSCRIPTIONS section and attach the required credit card to the subscription that should be renewed/billed (in case you have several subscriptions and several credit cards in your account).
If the subscription is active, there will be an automatic attempt to charge your card. If the status is suspended, click on renew and the payment attempt will be made during the following 12 hours. If the subscription status is terminated, contact PayPro Global at:
+1-866-933-4313 (USA/Canada toll-free).

+1-646-873-6857 (International).

+44 207 993 4222 (UK).
How can I get an invoice?
Contact your account manager at GanttPRO or download the invoice from your PayPro Global account.