In GanttPRO Gantt chart creation tool, in addition to standard fields, you can also create custom ones. They allow you to customize the project for specific needs and personalize it.
Custom fields are available for PRO, Business and Enterprise plans.
Within these plans, an Account Owner, Account Admins and Enterprise users with a Custom role and corresponding permission can create, edit and delete Custom fields in the account.
On a project level, any project participant, except for a Commentator, can edit data in existing Custom fields.
A Project Owner, Admins, Project Editors, and Enterprise users with Custom rights and corresponding permission can add existing Custom fields.
Find out below:
Types of Custom fields
There are nine types of custom fields available in GanttPRO: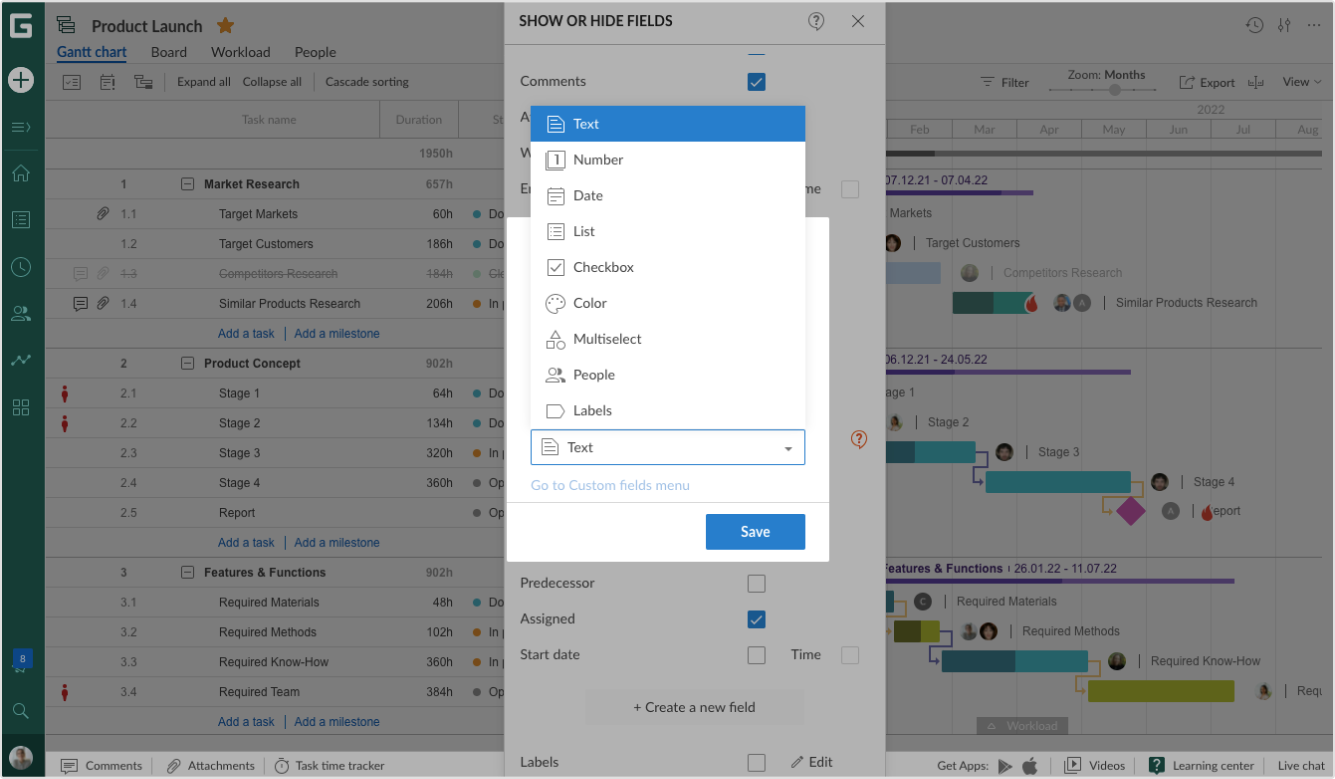 Text
This field can be used for any text or digital information. It's like your personal notes with quick access.
Number
Use this field for any numbers you need for your project. When adding this field, choose Aggregation: Sum or Average. The first one is the sum of all the values. The second one is the division of the sum of the values by their number. Sum or average values are reflected for each parent task and the whole project.
Date
Add here any date you need to have quick access to. It will not affect task start and end dates.
List
Here you can create a dropdown list with your own values. The order of these values and their names can be edited or deleted at any time. In the project table, there will be a blank space in this field, by default.
The list field is often used to create individual statuses, priorities, phases, or stages of a project that are not provided by default in GanttPRO.
Checkbox
In this field, you can specify any criteria that can be checked off afterward.
Color
This field works similarly to the List field. You can fill the list with the colors you need and assign them to tasks. Note that this field does not affect the color of the task bar on the Gantt chart.
Multiselect
Use this field to set up your own values in the drop-down list. The difference from the List field is that here you can select several values at once, and not just one.
You can also find this field useful, if you want to create a to-do list for a particular task and add it to the grid.
People
Choose this field when you need to specify certain resources.
Note that in this field you can only choose resources available for the current project. They are not reflected in resource workload and do not require duration and estimation values. For example, you can use this field to set reviewers on a task.
Label
Use this field when you need to combine Color and Multiselect options. That way, you can tag certain tasks.
Creating a custom field in a project
To create a custom field for your project:
Click on the "+" icon in the upper right corner above the list of tasks in your project grid

1

.

At the bottom of the list, click on

+ Create a new field

2

.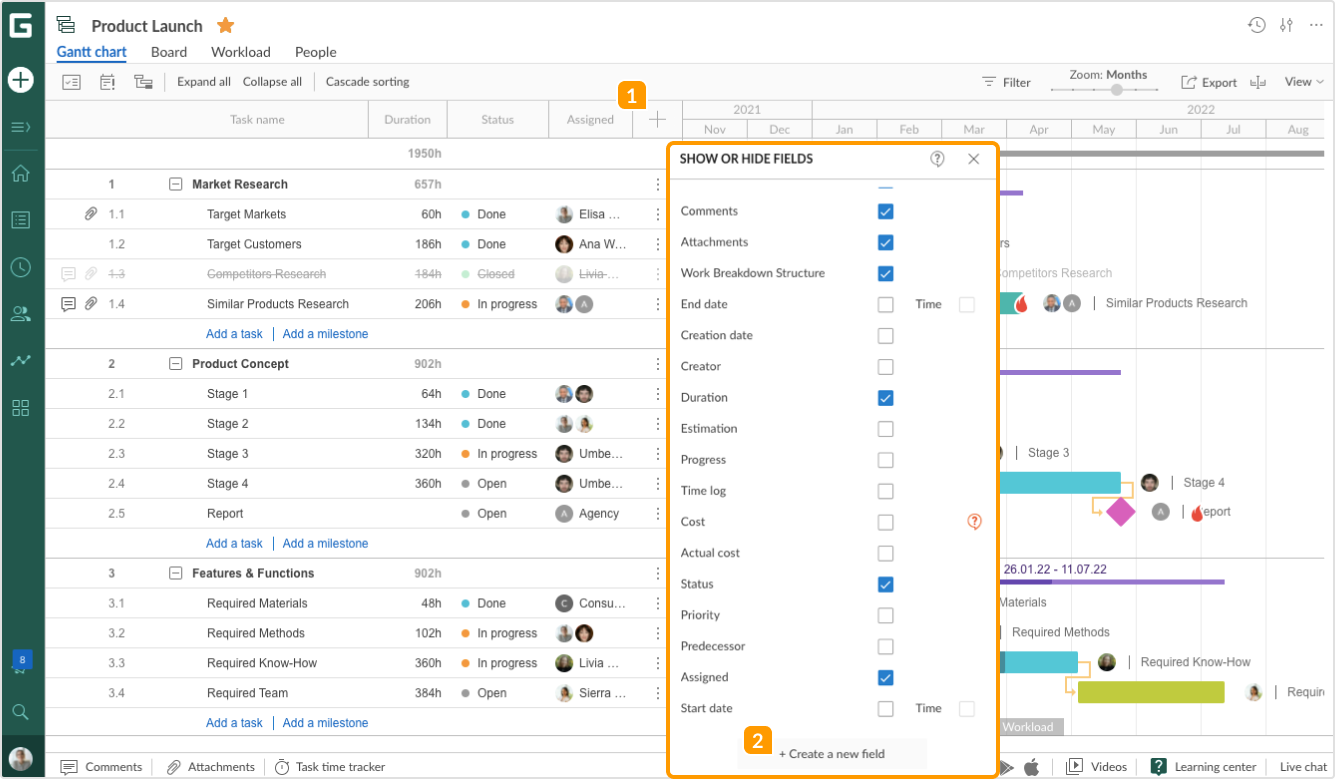 Enter a name

1

, select a field type

2

, and click on Save

3

.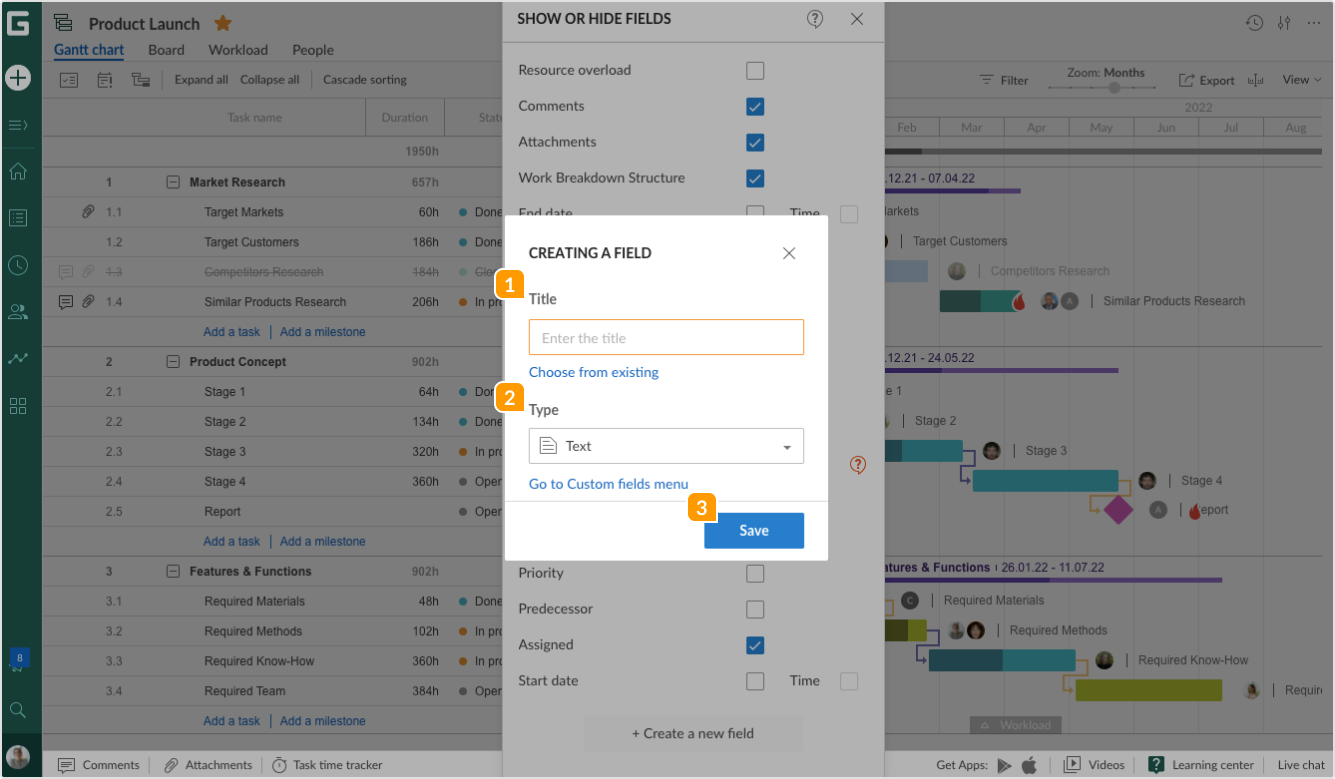 Choosing from the existing fields
If you need to create a field similar to an already existing one, you can simply add it to the required project. There is no need to create a second field with the same values.
In comparison to the case when you create a new Custom field, here once you click on + Create new field, you have to select Choose from existing. After that, select a previously created field from the list or enter its name, and click on Save.
Note that in this list you can find custom fields that you have created for other projects as well.
You can also quickly go to the Custom Fields menu, where you can manage fields from all projects in one place.
Custom fields menu
You can manage custom fields from all projects in one place. For that, open the Account Settings 1 in the lower-left corner and select the Custom Fields tab 2.
Here you can:
3 create a field
4 edit or delete a field
5 use a search box to find the required field more easily if there are plenty of them.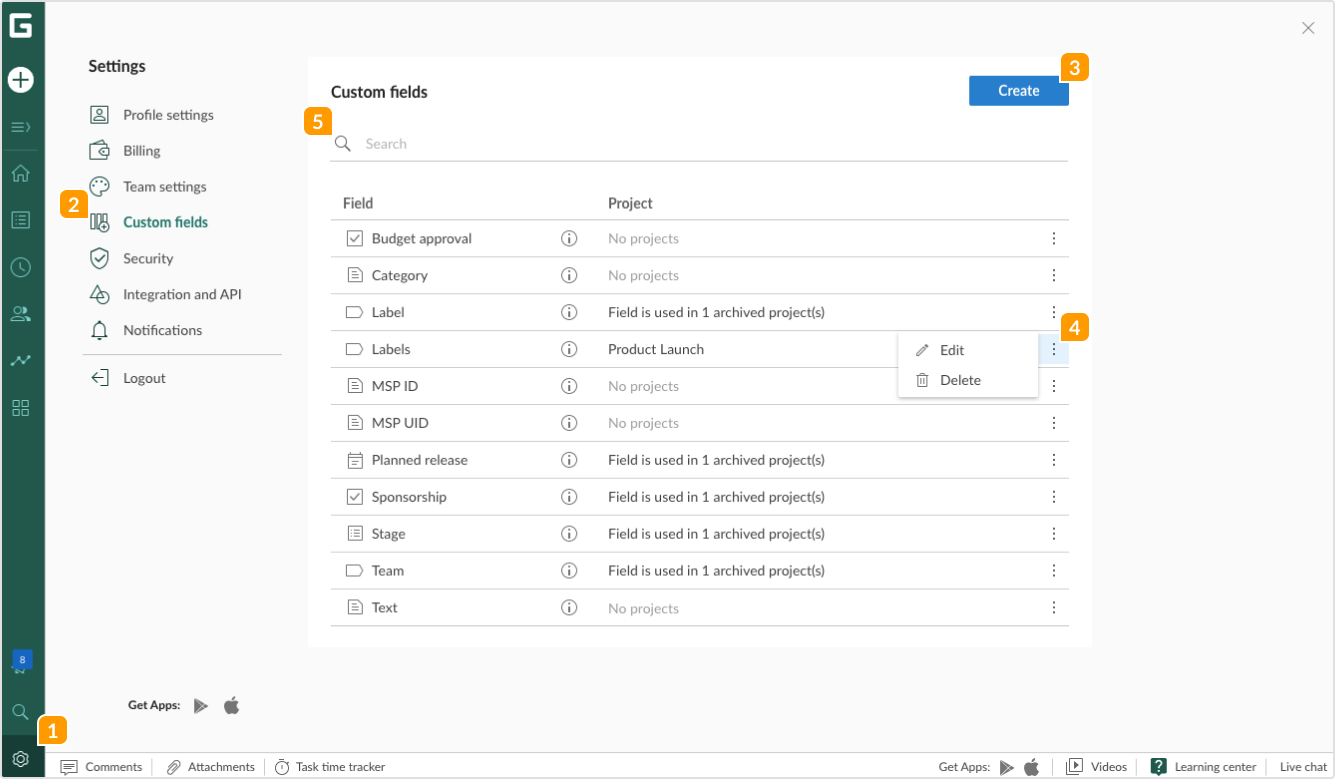 In the Custom fields menu, you can also create fields that can be directly applied to several projects at once. All you have to do is to click on Create, enter a name, select a field type, and mark the projects you need to add these fields to.
By hovering over the "info" icon next to the field name, you can quickly check the field type, its creator and creation date, as well as by whom and when the last change was made.
Note: All custom fields in projects are preserved when these projects are added to portfolios. They do not need to be added separately.
Editing a field
To edit a custom field, use the Custom fields menu. Click on the three dots icon to the right of the required field, select Edit, configure the parameters, and click on Save.
Here, you will be able to change the title and values ​​from the list, and select or deselect the projects where to display the fields. The field type cannot be changed.
Deleting a field
To delete a custom field, use the Custom fields menu as well. Click on the three dots icon to the right of the required field and select Delete. Before confirming the deletion, you are required to enter the name of the field you want to delete.
Note that once you delete a Custom field from your account, that field and all the data it contains will be deleted from all the projects.