You can share your project or portfolio anytime by using a public URL.
With a public URL, you can send a link to any person and provide access with it to view the project's Gantt chart together with the details that you want to share.
It can be useful in different situations:
To provide a client view when negotiating or working on a project at any stage of its lifecycle (presale, development, launch).

To make presentations for any stakeholder.

To place your link online (for example, on your website to show your plans for the next year), and so on.
To create a public URL for a project, click on the three-dots button in the top right corner of the page and choose Public URL.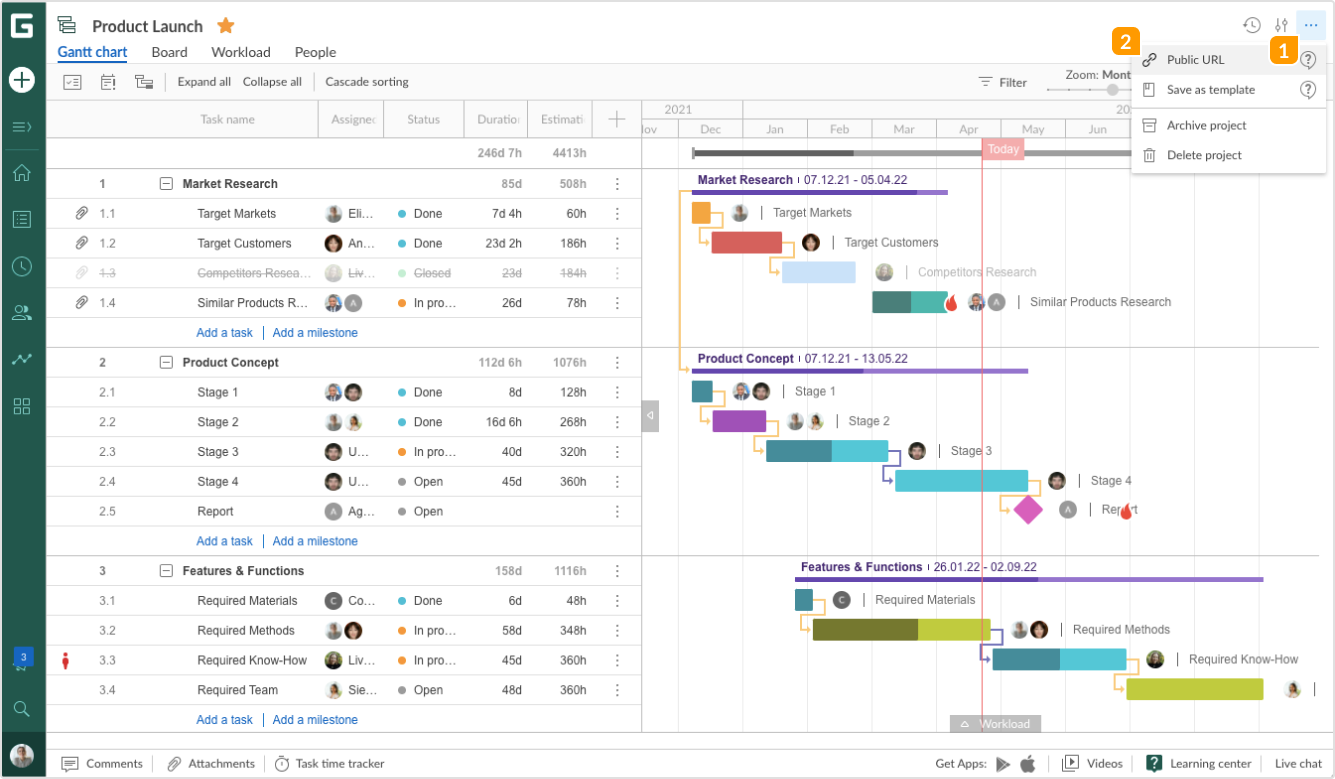 After that you can click straight away on Create public URL 1. This will generate a default link without any description that will display a current state of the project.
However, you can further configure a set of options for the link:
Apply filters

Add description

Choose between a static or dynamic picture

Enable or disable access
Note: by default, a project will include all the enabled Standard and Custom fields. So, make sure to leave the fields that are relevant for stakeholders.
Filters
It is possible to select which parts of the project to share. To make this, go to Filters and select which data you want to share together with a Gantt chart. After that, save your filter and name it.
When sharing a project, you can choose Current filter 2 to share a filtered version or Without filters 3 to share the whole project.
Description
It is possible to name the link or add any necessary description 4.
Static or dynamic picture
By default, you will share a dynamic state of a project. In this case, the person who gets the link will be able to see the current state of a plan and all the following changes as they are made.
If you need to share a static picture, i.e. a snapshot of a current state of a plan taken at the moment you've created that public URL, tick the Snapshot box 5 in the Public URL window. The person who gets the link will be able to only see the current state of a plan without any following changes.
Access
It is possible to switch off the access to the created link disabling it in the Status column or give it back by enabling it 6.
All the links you create get into the list. From there, you can manage them 7: copy, deactivate, or delete.
To share the link, click on a corresponding icon 8 in the Link column to copy it and paste wherever needed.