This article will help you to understand the basic layout of GanttPRO if you have just started using our software. It can be divided into three areas:
Project Page
A project page is divided into 3 parts: Project grid 1, Gantt chart 2, and Workload 3.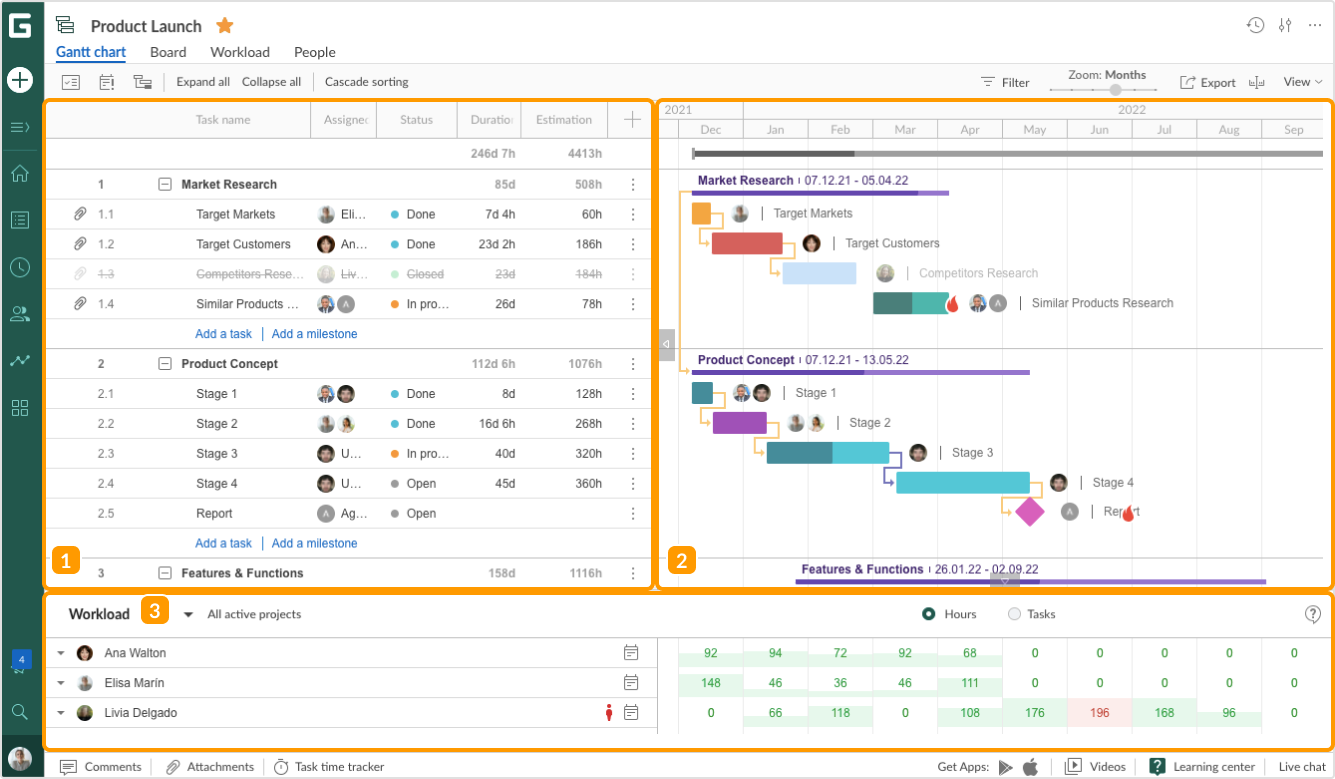 A project grid on the left side is the place where you can manage your task list.
A Gantt chart, a bar chart on the right side, displays the project schedule on a timeline. This is where you create a Gantt chart online.
A workload window at the bottom shows how estimated working hours are distributed between project members.
Top left corner: Gantt chart
1

, Board

2

, Workload

3

, and People

4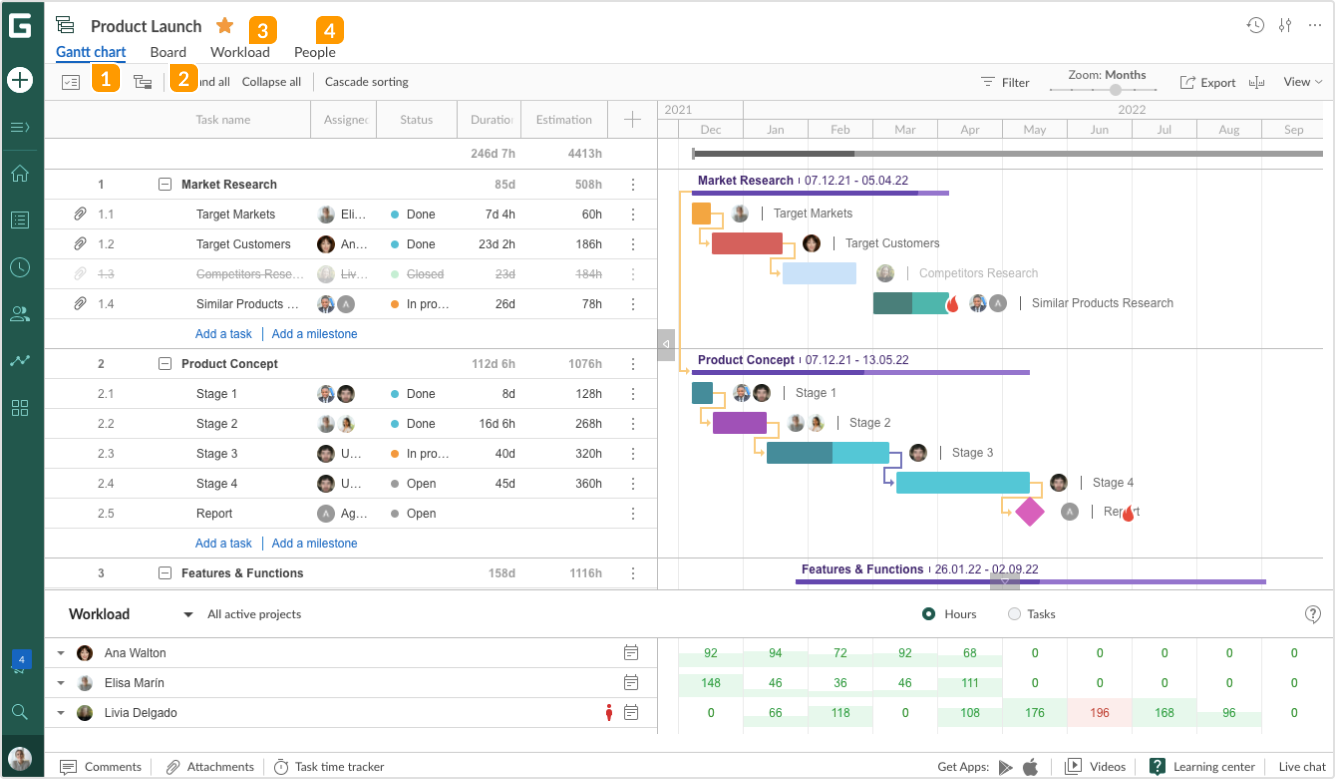 A Gantt Chart tab is set as the default project view with the task list on the left and the chart on the right part of the screen.
A Board tab displays tasks as cards distributed among several boards that represent certain stages of project development, status, priority, etc.
A Workload tab contains an advanced workload table for the current project.
A People tab allows you to manage project resources, their rights, and costs.
Top left corner: Bulk change
1

, Overdue tasks

2

, Critical path

3

, Collapse/Expand

4

, and Cascade sorting

5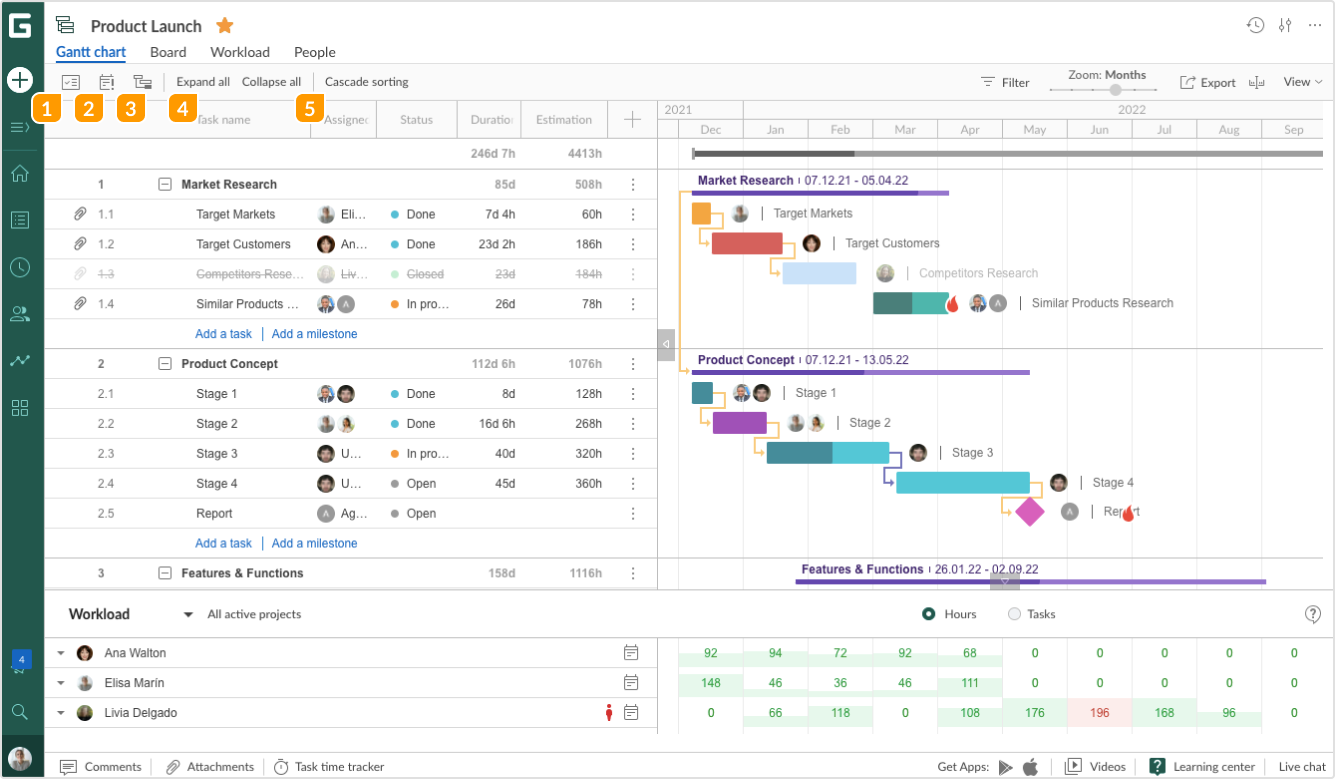 Top right corner: History of changes
1

, Project settings

2

, Other settings

3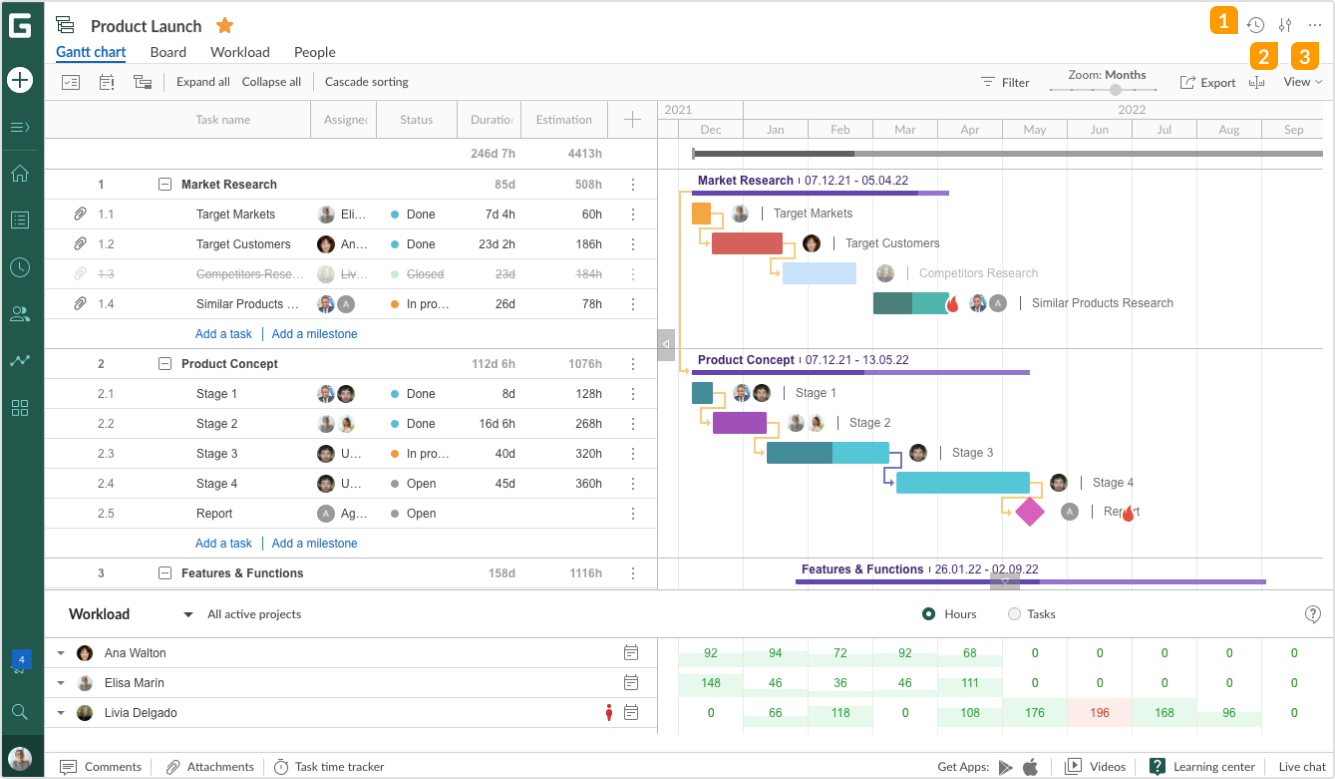 Click on the History of changes icon to see all the changes that have been made in your project in GanttPRO.
Open Project settings to set the working schedule and duration step, configure Auto-scheduling and Resource calendar. Also, you can choose how to show the workload as well as types of workload and progress calculations.
By clicking on the three dots icon, you can access Other settings. These include: sharing a Public URL and Saving project as a template. A project creator will additionally have an option to archive or delete a project.
Top right corner: Filter
1

, Zoom

2

, Export

3

, Baseline

4

, and View settings

5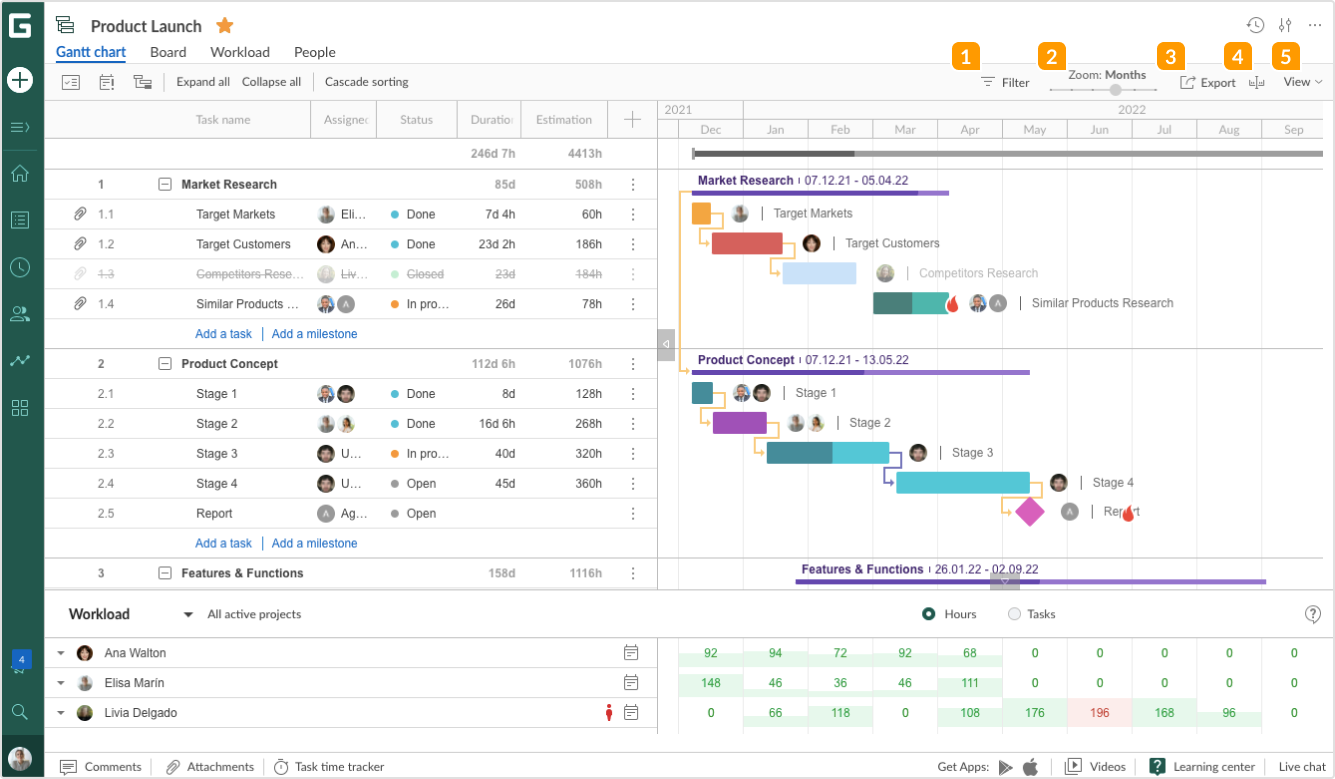 Left sidebar
Top left side: All projects
1

, My tasks

2

, My time log

3

, Team & Resources

4

, Reports

5

, Workload

6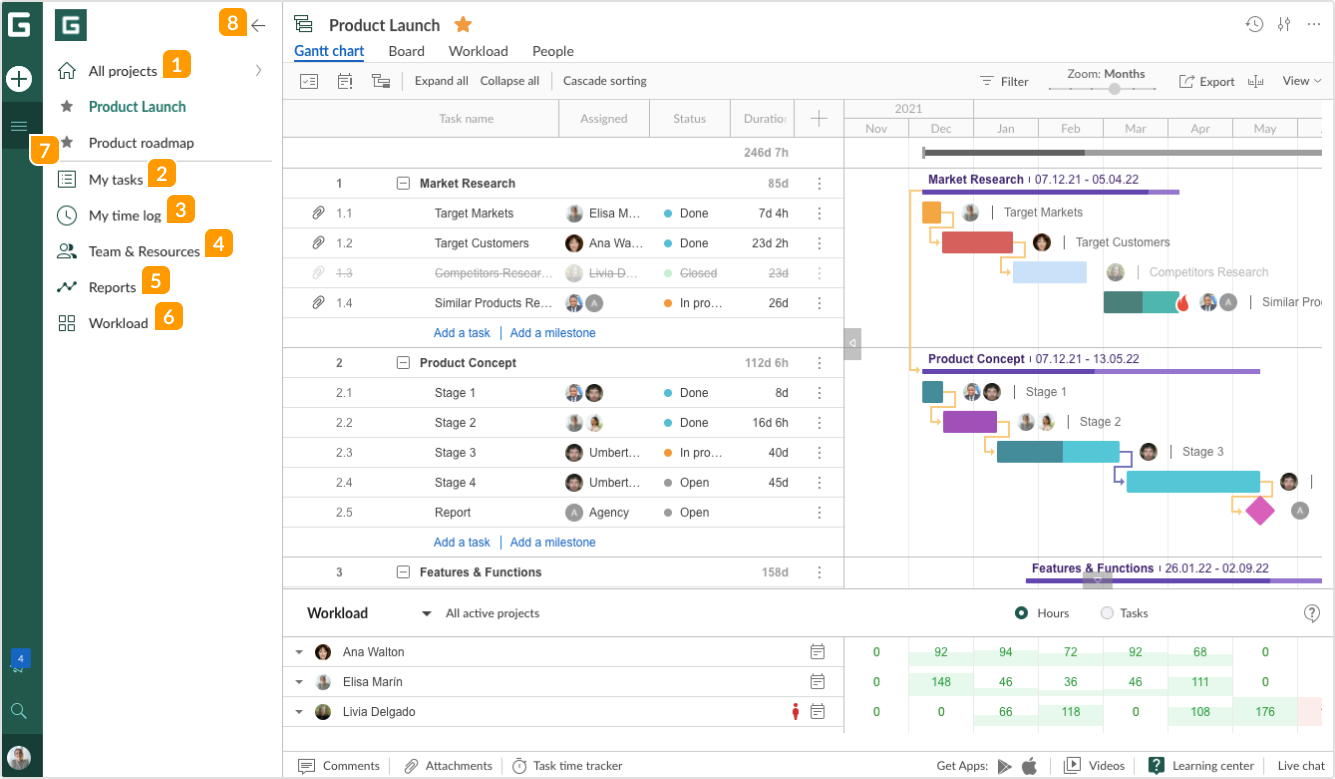 The All projects tab contains all available projects and portfolios.
The My tasks tab by default shows the list of incomplete tasks with "Open" or "In Progress" status or all the tasks from all the projects that are assigned to a certain resource and their total number, when no filter is applied.
The My time log tab shows the record of the time logged by different users. Timelog table is also customizable: there are different groupings and a filter.
The Team & Resources tab is a common space where the resources from all the projects can be managed by an Owner or Admins.
The Reports tab provides a possibility to create two types of reports: Time log by people and Budget analysis.
The Workload tab shows the overall workload across all available projects.
Use the three lines sign 7 and the arrow 8 to expand or collapse the left sidebar. By clicking on the "+" icon, you can Create new project or Create project portfolio.
Note that Members don't have access to the Team & Resources, Workload, and Reports tabs.
Bottom left side: Notifications
1

, Search

2

, Profile settings

3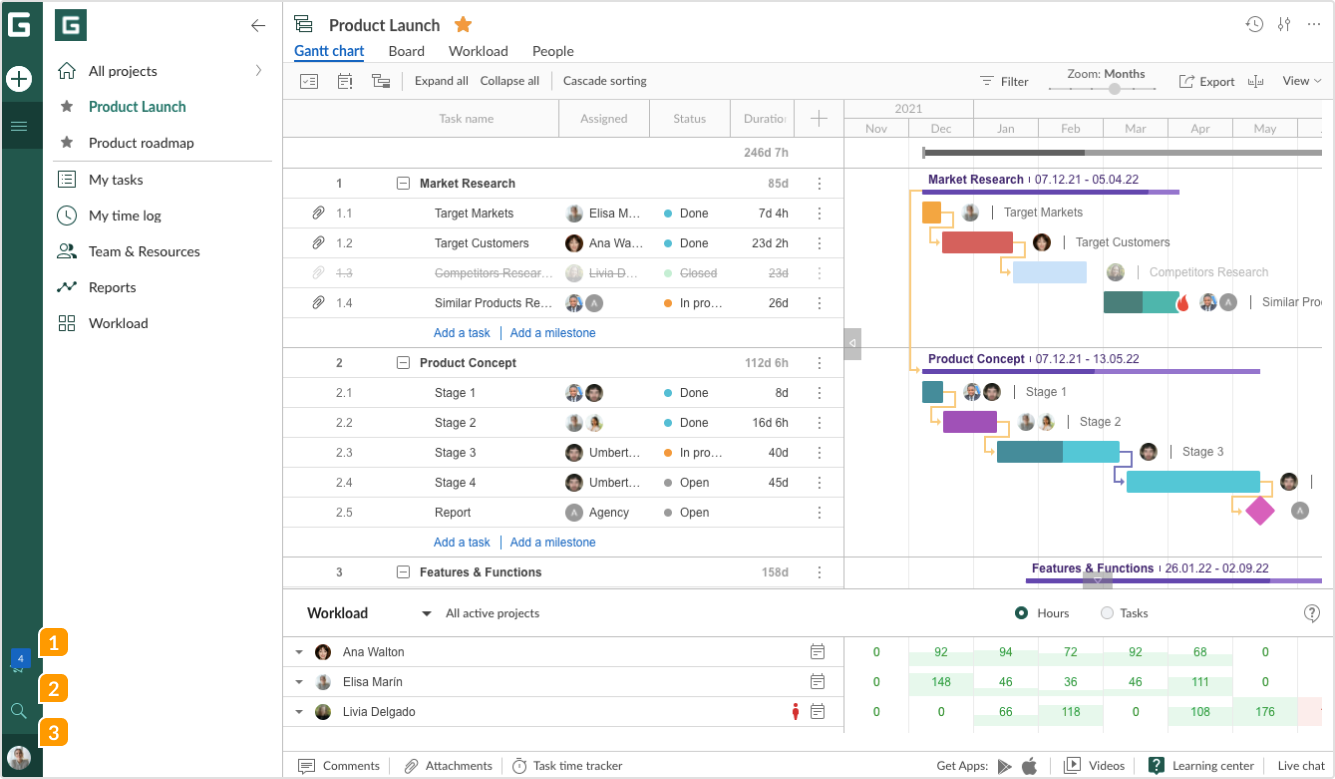 The Notifications icon opens the activity feed and shows the number of unread notifications.
Click on the Search icon to browse task names, descriptions, comments, files.
Open the Profile settings to configure your personal information, manage custom fields, notification preferences, workspace & team settings, billing. Here, you can also configure different integrations and activate extra security measures for your account.
Bottom bar
Left bottom corner: Comments
1

, Attachments

2

, Task time tracker

3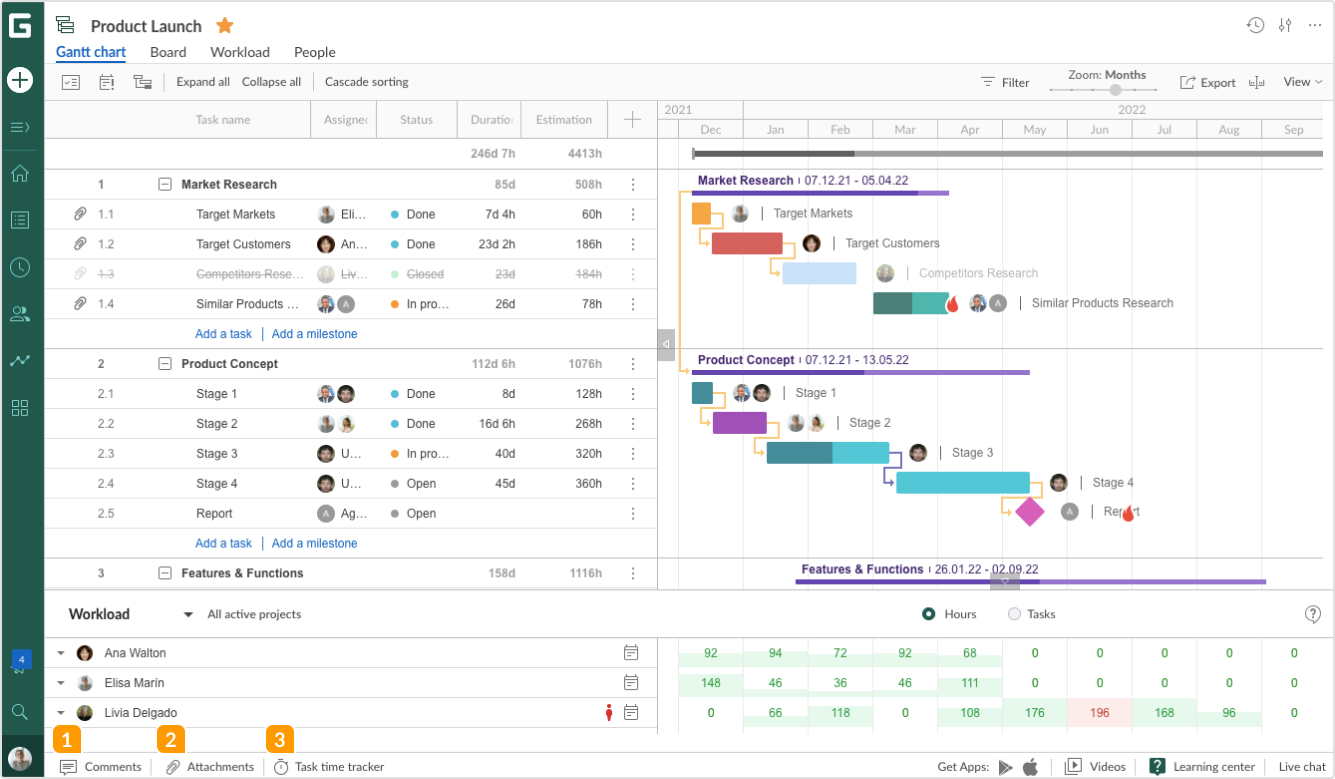 The Comments tab provides quick access to all comments from all the projects.
The Attachments tab provides quick access to all attachments from all the projects.
By clicking on a Task time tracker, you can log the time, start the timer, and check the history of all time log records.
Right bottom corner: Videos
1

, Learning center

2

, Live chat

3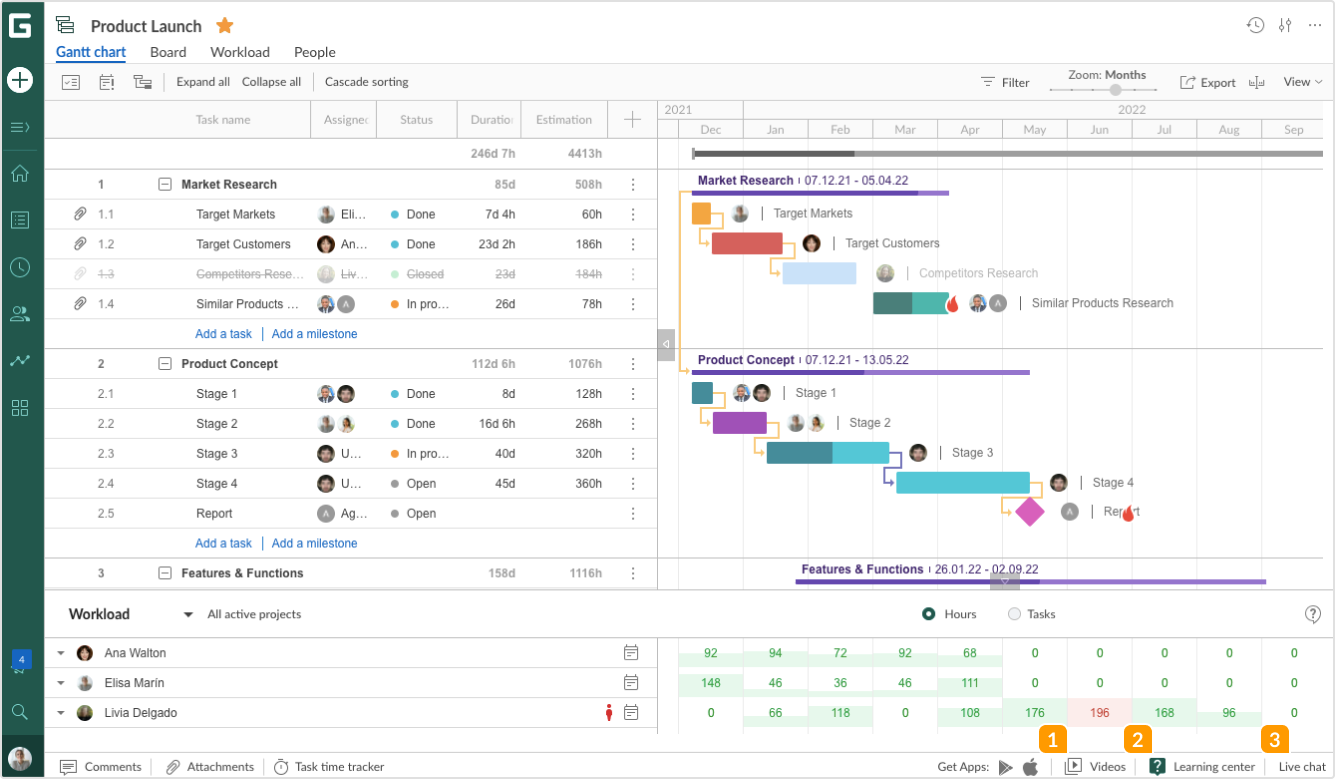 Click on Videos to find short tutorials on the essential features of GanttPRO on our YouTube channel.
In the Learning center tab, you can check our Setup Guide, "What's new" section, the YouTube channel, and the Knowledge base.
The Live chat icon opens a chat or ticket with our Support Agent. If you have any questions, concerns, or feedback, feel free to contact our Support team. Working hours are from 9 am to 6 pm (GMT+2), Monday to Friday.